2023 MEMBERSHIP NOW OPEN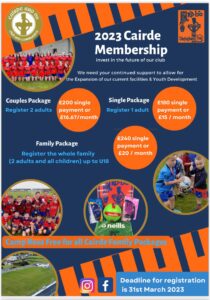 Our annual club membership is now due for 2023 and can be done online using our KlubFunder platform or you can set up your direct debit through Go Cardless. As part of Family Cairde option, there will be free entry for all children who are part of this package for this year!
Please note all players must be officially registered with club in order to train and play with any team!!
Membership prices for 2023 are as follows:
Cairde Ard Bó – £180*
Cairde Ard Bó Couples – £200*
Cairde Ard Bó Family – £240*
Adult – £50
Juvenile (Primary and below) – £15
Youth (Post-Primary) – £25
Multiple Youth/Juvenile – £60 (for when total of youth/juvenile exceeds £60 use this option)
*Pay monthly options available for these through Go Cardless
Click on links below to set up:
CODES OF CONDUCT
Please see below for our various club codes of conduct. To complete online membership you must acknowledge you have read and understand these!
By ciaranhurl
Wed 15th Feb