Last Man Standing Entry Sheets are available to download at the link indicated, from the club documents section of the website or from any committee member.
COMPETITION RULES:
You must select one team to win in each round; you may only select each team once.
You must select a different team each round.
If your team loses or draws you are out.
Fixtures will be taken from Division 2 of the National Football League only.
All entries must be made before round 1 of the league on Friday 31st January 2016, any entries received after the first game will be void.
All entries made will be entered onto a spread sheet that will be available to view in the club documents section of the website and the spread sheet will be updated after every round.
In the event that more than 3 people are still standing after the final round of league fixtures, remaining people will be asked to make selections for the league semi-finals and finals if needed.
Decision of the committee in charge is final.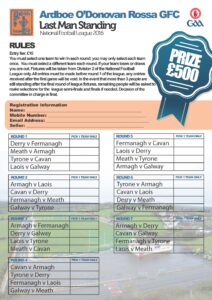 By ciaranhurl
Tue 5th Jan